Ag Student of the Week Archive
James Earl Rudder High School senior named Houston Market's Ag Student of the Week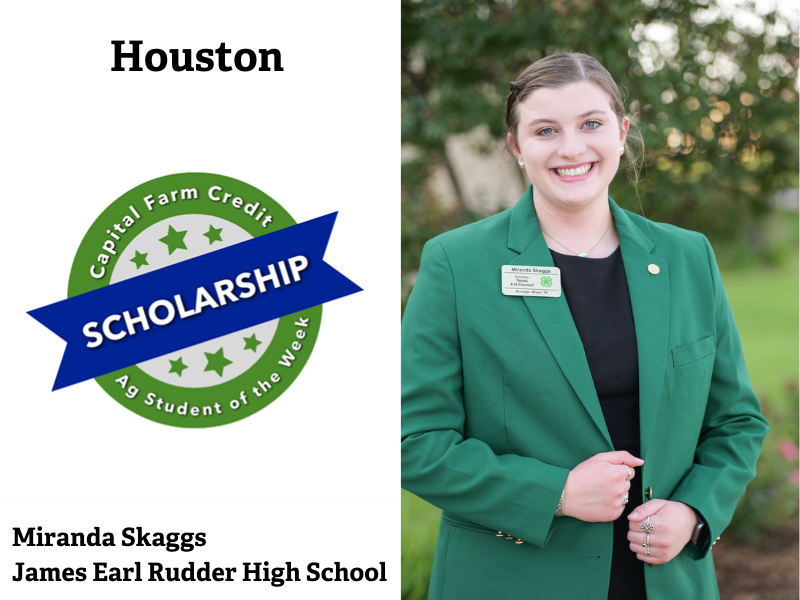 To make the best better.
This is the 4-H motto, and a saying that Rudder High School senior Miranda Skaggs has lived by during her ten-year involvement with the organization.
Skaggs has been a member of Brazos County 4-H since the third grade, and has competed in agricultural public speaking, as well as livestock judging.
Her leadership experiences include serving as the president of the St. Joseph 4-H club, vice president of the Brazos County 4-H council, and secretary of the Texas 4-H Council. She has served as the governor during the 2022 Texas 4-H Congress, and recently represented Texas 4-H at the National 4-H Congress in Atlanta, Georgia. Additionally, Skaggs has been a Texas 4-H Youth Livestock and Agriculture Ambassador since 2019, and was selected to participate in the Norman Borlaug Youth in Agriculture program for the 2022-2023 year.
Despite her busy schedule as a nationally recognized leader, Skaggs remains dedicated to supporting her local community through service projects. She helped establish the Brazos County Youth Livestock Association Junior Board in 2018, and through her efforts, helped raise more than $1.3 million in funding for Brazos County 4-H and FFA youth exhibitors during the 2022 Brazos County Livestock Show.
Skaggs has also helped put on the annual Brazos County Special Edition Livestock Show, an event that gives youth with disabilities the opportunity to experience showing a livestock project.
In addition to 4-H, Skaggs is a four-year member of Rudder FFA. Through this organization, she has served as the secretary of her chapter, president of the Brazos Valley District, and vice president of the Area XII FFA Association.
Outside of agriculture, Skaggs serves as secretary for the National Honor Society. She is currently ranked first in her graduating class, and has been recognized by the College Board's National Rural and Small Town Recognition Program for her academic achievements.
After graduation, Skaggs plans to attend Texas A&M University to major in Animal Science. Upon completion of her degree, she hopes to apply for law school, where she will focus on advocacy through becoming an agricultural lawyer.
"It is vital to me that through my future career, I am able to give back to the hard-working youth of the agriculture industry," said Skaggs.
"I would not be the person I am today without the guidance and support of those agriculturists who mentored and believed in me."
Congratulations on your outstanding accomplishments Miranda, the Capital Farm Credit team looks forward to seeing you succeed in your future endeavors.