Ag Student of the Week Archive
Zapata High School senior named South Texas Market's Ag Student of the Week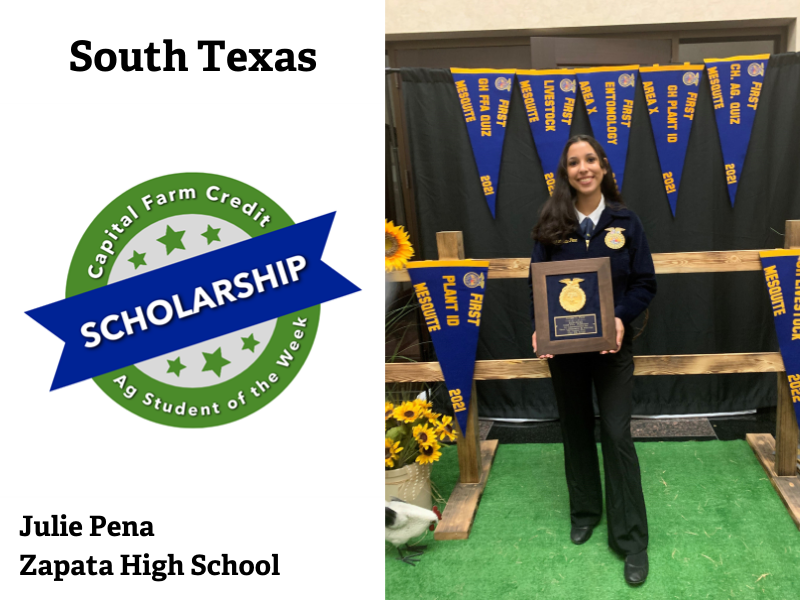 For Julie Peña, her love of agriculture began with a single stalk of corn.
When she was in second grade, her class planted corn seeds in small cups. When it came time to take her corn plant home, she asked her father if they could plant it on the family farm.
"It was a really good learning experience," recalls Peña. "I will always remember that corn plant."
Since then, Peña has dedicated much of her time to the agricultural industry. In addition to working long hours on the farm alongside her family, she is also an active member of Zapata FFA, where she shows rabbits and competes in radio broadcasting, homesite evaluation, and milk quality evaluation. She is also president of the Zapata FFA chapter, and has served as the reporter for the Mesquite District FFA officer team.
Through her high school, Peña is a member of the National Honor Society and UIL academic team. She is the president of the class of 2023, student council, and Leo club, and is a member of the varsity golf and cheer teams. In addition to being active in extracurriculars, Peña also dedicates her time to bettering the community through planning and executing service projects. She is also enrolled in dual credit courses at Laredo College, and will graduate with a welding certification in May of 2023.
After graduation, Peña plans to attend Texas A&M Corpus Christi to major in biology. After becoming a Doctor of Dental Surgery, she hopes to work within her community to provide free dental services to those in need. She also plans to remain an avid advocate for agriculture, while continuing to work on the family farm.
"Being the person that I am, I always strive for more," said Peña.
Congratulations Julie on your outstanding accomplishments, the Capital Farm Credit team wishes you the best of luck in your future endeavors.