Ag Student of the Week Archive
Garden City High School senior named San Antonio Market's Ag Student of the Week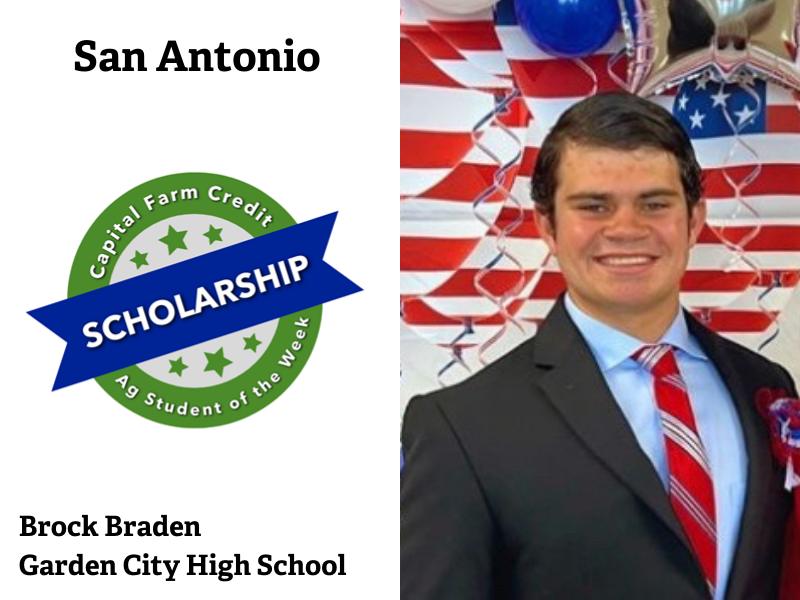 Brock Braden learned the power of leadership from his grandfather, a farmer and retired ag teacher of thirty years.
"It was him to who got me involved in agriculture," said Braden. "He's the one who inspired me to join FFA and 4-H."
As a senior at Garden City High School, Braden has continued the legacy by serving as a leader in all that he does.
Through FFA, Braden has participated at the area and state levels in quiz, creed speaking, farm business management, ag advocacy, and extemporaneous public speaking. He was elected president of his chapter, served two terms as an El Rancho district FFA officer, and is currently the vice president of the Area II FFA Association. Braden is also an officer in his 4-H club, and has competed in photography, as well as wildlife at the state level.
Outside of FFA and 4-H, Braden is active on the UIL academics team, and is a member of the Texas Math and Science Coaches Association. He plays football and golf, and has earned all-region and all-state titles. He is also active in student organizations, and currently serves as an officer for student council, student government, and the National Honor Society.
Juggling these extracurricular activities is no easy task, and Braden is thankful that being involved in agriculture has taught him how to manage a busy schedule.
"One of my favorite lessons I've learned is how to work hard," said Braden. "Life never slows down, no matter where you're at."
After graduation, Braden hopes to become a state officer for the Texas FFA Association, where he will continue to advocate for Texas agriculture. He then plans to attend Texas A&M University to pursue a degree in biochemistry. While in college, he hopes to run for student government, and hold a position on the College of Agriculture and Life Sciences (COALS) council.
"Since junior high, I have known that I wanted to live a life of leadership and of service," said Braden.
"Agriculture has given me so much, and I want to give back to the industry that shaped my life."
Congratulations on your outstanding accomplishments Brock, the Capital Farm Credit team wishes you the best of luck in your future endeavors.