Ag Student of the Week Archive
Coahoma High School senior named Plains Market's Ag Student of the Week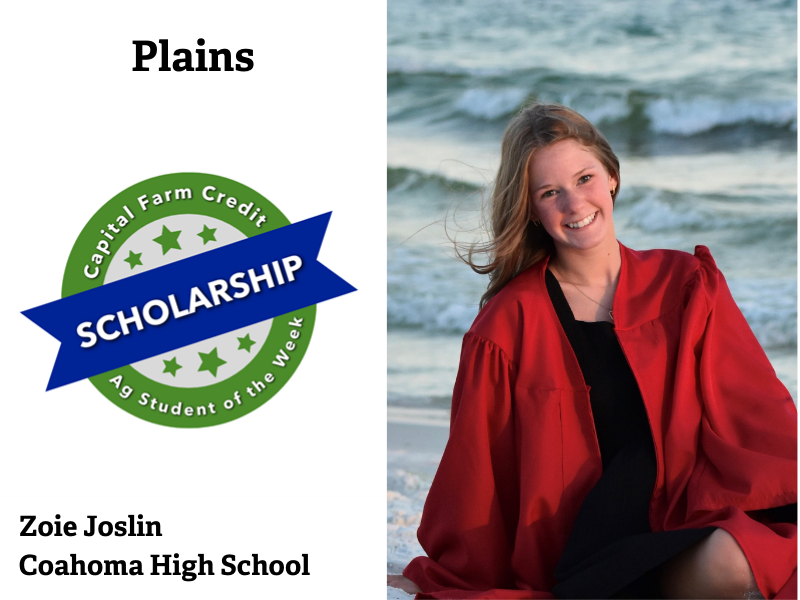 When Zoie Joslin joined FFA her freshman year of high school, she discovered a deep-rooted passion for the agricultural industry. Four years later, the Coahoma High School senior hopes to give her future students the same opportunity.
"Most people don't even realize that agriculture has such a big impact on their everyday lives," said Joslin. "It serves as a source for clothing, food and so much more. This needs to be taught in classrooms at an early age, so that students grow up with a better understanding and appreciation of the industry."
During her time in FFA, Joslin has competed in greenhand creed, greenhand skills, agriculture advocacy, senior skills, poultry, and radio broadcasting at both the district and area levels. She has also served as a chapter officer for the last four years, and is currently serving as the vice president of the El Rancho District. She is an avid pig showman, and has competed at county and major shows across Texas.
"Showing pigs opened my eyes to what the ag industry really was," said Joslin. "My first pig show was definitely something that I'll remember for the rest of my life."
In addition to FFA, Joslin serves as the president of her senior class, as well as president of the student council. She is the vice president of the National Honor Society, where she helps organize service projects to help better her community. Joslin is also a four-year varsity athlete, and has won multiple awards for volleyball, golf, and powerlifting.
After graduation, Joslin plans to attend Texas A&M University to earn her degree in early childhood education. She hopes to use her platform as an educator to teach youth about agriculture, and encourage them to pursue careers in the industry.
Congratulations Zoie on your outstanding achievements, the Capital Farm Credit team wishes you the best of luck on your future endeavors.