Ag Student of the Week Archive
Bastrop High School senior named Austin Market's Ag Student of the Week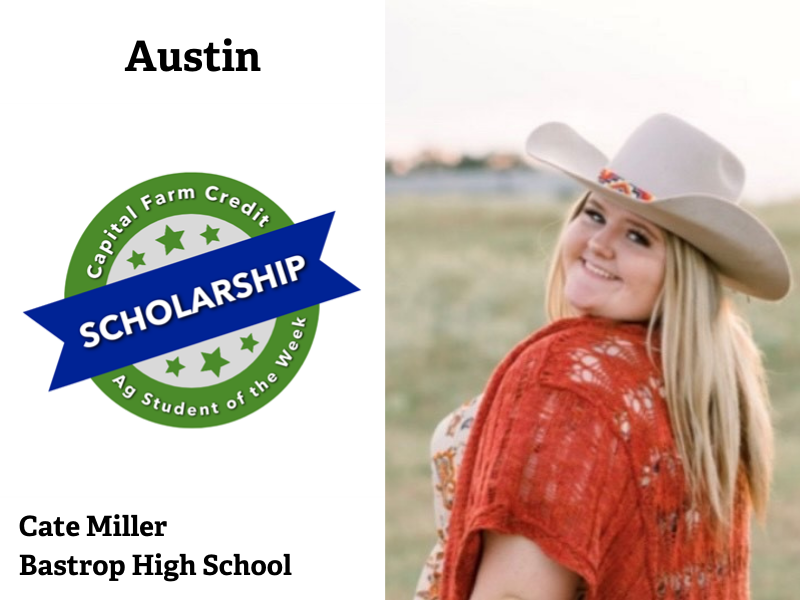 Bastrop High School senior Cate Miller remembers working cattle on the family ranch at just four years old, an experience that sparked a lifelong dedication to agriculture.
After spending much of her youth involved in 4-H, she joined FFA her freshman year.
"My ag teacher took me under her wing," says Miller. "She told me, 'You're going to do it, and you're going to love it,' and I'm so glad I listened to her, because I absolutely did."
Now a senior, Miller has remained an active member of Bastrop FFA. She has competed in creed speaking, quiz, horse judging, chapter conducting, job interview, and farm business management. She is currently serving as the president of her chapter, in addition to representing the Area XII FFA Association as the vice president.
"Over the years FFA and 4-H have been organizations that took up most of my time," said Miller, "but I can tell you that not a second of it was wasted."
During her time in high school, Miller has been a member of the varsity cheer team, and the National Honor Society. She also is active in her school's Peer Assistance Leadership and Service (PALS) program, where she works to better her community through various service projects.
After graduation, Miller hopes to use her leadership skills to advocate for the agricultural industry.
"Being an officer for my FFA chapter and serving as an area officer have taught me the importance of advocating for agriculture, and how powerful words are," said Miller.
In the fall, Miller will be attending Texas A&M University to pursue a degree in agricultural communications and journalism. She then plans to apply for law school, with a focus on agricultural law.
She hopes to use her education to combat misinformation regarding the agricultural industry.
"The way I see it, agriculture affects every single person on this earth," said Miller. "This is why it is absolutely necessary for everyone to be informed, and to care about the future of agriculture."
Congratulations Cate on your outstanding achievements, the Capital Farm Credit team wishes you the best of luck in your future endeavors.