Ag Student of the Week Archive
Santa Gertrudis Academy senior named South Texas Market's Ag Student of the Week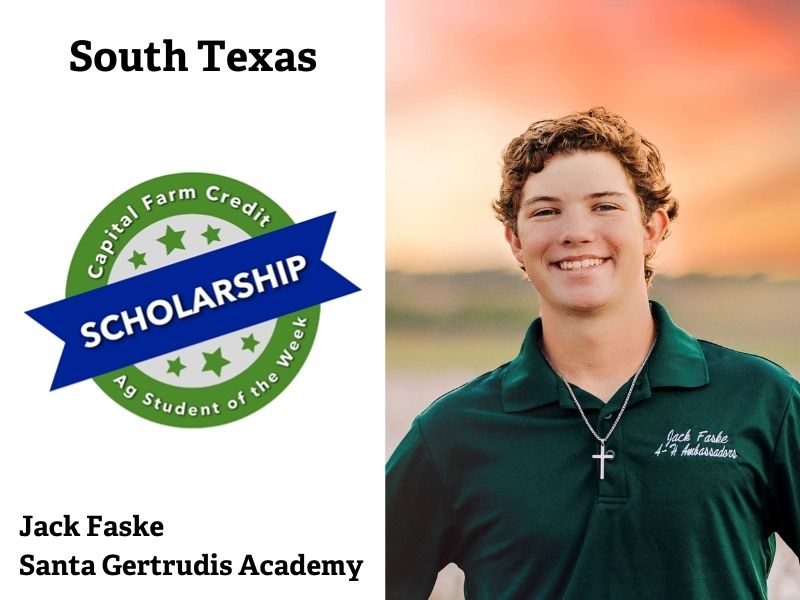 Santa Gertrudis Academy student Jack Faske knows what it means to build something from the ground up.
In the fourth grade, he helped start the Driscoll 4-H club, and his dedication to agriculture hasn't slowed down since.
"I have been around agriculture my whole life," says Faske. "I know what a long day of work means, and I am not scared to get my hands dirty".
Now a senior, Faske has been involved in 4-H since he was eight years old. In addition to being a successful goat showman, he is an active leader in his club and community. His leadership experiences include serving as the reporter, council delegate, treasurer, vice president, and president of Driscoll 4-H, as well as serving as a 4-H ambassador for the last six years.
He is also passionate about archery, and even helped start the local archery club when he was in eighth grade.
During his time in high school, Faske has been an active member of the Santa Gertrudis Academy FFA chapter, where he competes in livestock judging. Being involved in 4-H and FFA has taught him that there is much more to these organizations than just livestock.
"I want to help promote that it is more than just an ag program," says Faske. "A lot of people are just farming or showing animals, but it is a lot more than that".
Outside of 4-H and FFA, Faske is an avid baseball player. He also serves as an officer for the Young Ambassadors program, and is a member of the National Honor Society.
After graduation, Faske plans to attend Texas A&M University in College Station, where he hopes to pursue a degree in agribusiness and wildlife management.

Congratulations on your outstanding accomplishments Jack, the Capital Farm Credit Team looks forward to seeing what your future holds.