Ag Student of the Week Archive
Llano High School senior named Austin Market's Ag Student of the Week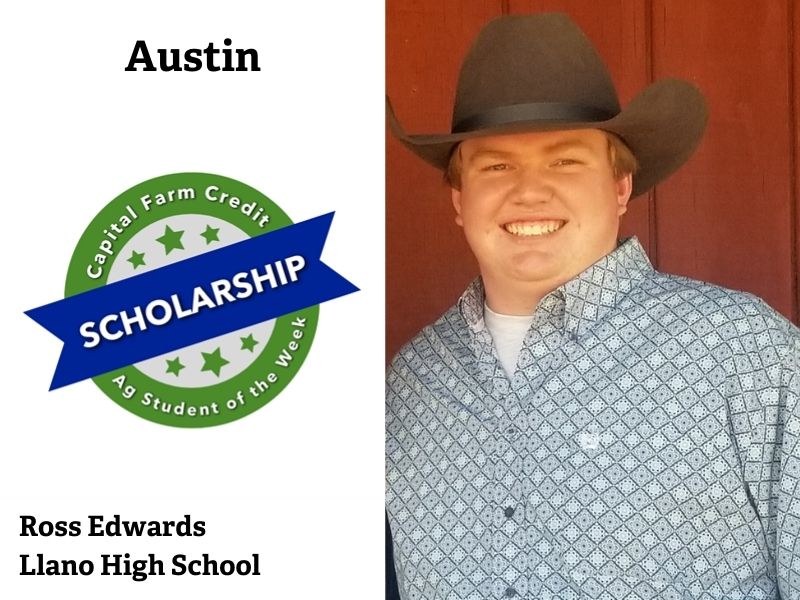 From a young age, Owen "Ross" Edwards knew he wanted a future in production agriculture. His earliest memory consists of riding around with his granddad to check on the cattle, and his passion for the industry hasn't slowed down since.
"I have always loved big tractors, big farming equipment, and big farms," said Edwards. "My little eight-year-old self would tell everyone that I going to ride big tractors and be a farmer; and in a perfect world, I still would."
Like his family before him, Edwards has channeled his passion for agriculture into 4-H and FFA. He has taken on leadership roles at both the local and state level, including serving as a Texas FFA Foundation ambassador, a Bluebonnet FFA district officer, and the parliamentarian of the District 7 4-H council.
Edwards is also a member of the ag advocacy, greenhand quiz, radio broadcasting, and livestock judging teams, and has shown market steer projects across the state of Texas.
In addition to being highly involved in agriculture, Edwards plays varsity football, basketball, and golf at Llano High School. He is a member of the National Honor Society and the Academic UIL team, where he competes at both the district and regional levels.
After graduation, Edwards plans to attend West Texas A&M University to pursue a degree in agricultural business, with a minor in crop science. Upon completing his degree, he hopes to become involved in production and regenerative agriculture in the panhandle of Texas.
"My hope is that the knowledge I gain will help me be on the forefront of making practical decisions to address the challenges facing our industry as we strive to provide food and water for an ever-growing population," said Edwards.
Congratulations on your outstanding accomplishments Ross, the Capital Farm Credit team looks forward to seeing what your future holds.