Ag Student of the Week Archive
Coleman High School senior named Plains Market's Ag Student of the Week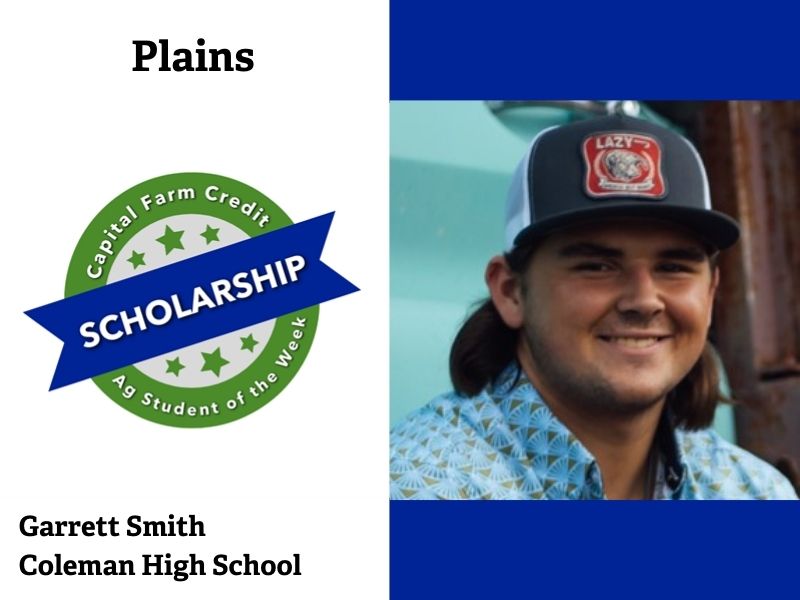 Across the state of Texas, 4-H and FFA members take pride in raising and showing their livestock projects. Coleman High School senior Garrett Smith is one of these students, and has raised market lambs, goats, and rabbits throughout his ten years in FFA.
However, for Smith, his passion for agriculture goes beyond livestock. Growing up in a farming and ranching family has inspired him to make agriculture his future, particularly in the field of wildlife conservation.
He hopes to someday work for the Natural Resources Conservation Service, where his goal is to manage the land for wildlife, cattle, and future generations to enjoy. He also plans to educate the public on the importance of wildlife and land management, to preserve ecosystems currently being impacted by the severe Texas droughts.
"Long time farmers and ranchers are selling off whole herds of cattle at a time because they have no food or water for them to live," said Smith.
"This is a major problem, however what about the wildlife? They also are having to live without adequate food and water supplies."
Back at home, Smith and his family have already begun conservation efforts in their area with the help of a funding program offered by the Natural Resources Conservation Service.
This project consists of planting 40 acres of sunflowers to help sustain local wildlife, specifically migratory birds.
When he isn't in the field with his family, Smith spends his time on the field with his teammates. He has been a member of the Coleman Bluecat football team all four years of high school, where he was recognized for his achievements as an offensive tackle and defensive end at the district and area levels. Smith also plays baseball, where he serves as a first basemen.
During his time in Coleman FFA, Smith has participated in various LDE and CDE events, where he helped his team advance to the area and state competitions. He currently serves as the vice president of his FFA chapter. His junior year, Smith was elected as an officer for the Area IV FFA, where he assisted in putting on greenhand camps for new FFA members.
Despite his busy schedule, Smith is an active member of the National Honor Society. In addition to volunteer work, he has been recognized as a member of the A honor roll, and is currently fifth in his graduating class.
After graduation, Smith hopes to continue his involvement in agriculture through attending Tarleton State University. He plans to major in agribusiness, and use his degree to give back to the ag community.
Congratulations on your outstanding accomplishments Garrett, the Capital Farm Credit team looks forward to seeing what your future holds.