Blog
Planting Seeds | The Bishop Family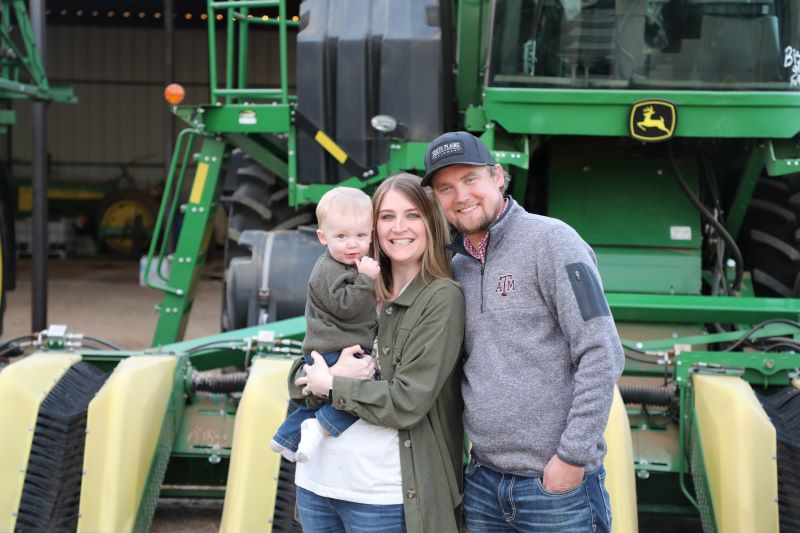 Capital Farm Credit borrowers Anthony and Jayci Bishop share their story as young cotton producers in northwest Texas.
Cotton crops have been an essential part of American agriculture for centuries, and are the foundation of household necessities such as clothing, towels, bandages, and even cash. With 56 percent of the nation's cotton acreage being planted in Texas, it is imperative that the legacy of cotton farming continue to be passed down from generation to generation. Through their careers as third and fourth generation farmers, Anthony and Jayci Bishop are helping to do just that.
It all began at a Plains Cotton Cooperative Association meeting in 2018, where the two met for the first time. Anthony was freshly graduated from Texas A&M University, and working for his father's cotton operation. Jayci had graduated from Texas Tech University, and was using her degree in agricultural communications to fulfill her duties as the director of corporate communications with PCCA. It wasn't long before the two hit it off, and in 2020, they married.
Family Ties
Anthony began working the land alongside his father when he was in middle school, and after earning his degree in agricultural leadership and development, he decided to return to the farm.
"It was a family deal, I really wanted to come back and work alongside my dad," said Anthony.
Today, the family operation spans a combined 6,800 acres of primarily dryland cotton fields. Anthony continues to work alongside his father, while farming his own 2,800 acres in Lynn County and Garza County.
"I work some land that has been owned by the landowner's families since the late 1800s, early 1900s," said Anthony. "I think that's really neat, just the history aspect of it."
One of the couple's favorite parts about joining the cotton business is the opportunity to connect with their families over their shared passion for the industry.
"We not only get to be their children or in-laws, but we also get to be partners in their business, and carry on the traditions that they've started," said Jayci. "They take such pride in it, and I think it's very important for us to be able to continue that."
Over the years, the family operation is not the only thing the Bishops have grown. The couple hopes to pass their love of the cotton industry on to their son, Lincoln, who they welcomed in 2021.
"We're both looking forward to Lincoln being a part of the operation with us, and carrying on the business one day," said Jayci.
Sustaining the Future
The couple firmly believes that sustainable farming practices are the key to preserving their land for future generations.
"We're always looking for ways to increase our sustainability and decrease our input costs," said Jayci.
One of the methods the couple uses to sustain their operation is planting no-till cover crops, such as wheat and rye, which help the soil maintain its nutrient contents during the off season. The Bishops have also cut back on the amount of pesticides used during the growing season, by being more intentional with the application.
"Our spray technology is being taken to the next level, to ensure that we're putting the chemical where it's needed, when it's needed, and how it's needed," said Anthony.
As for their future plans, the Bishops hope to build up their farm's infrastructure in order to better protect their equipment from the elements. They also plan to expand their acreage, while continuing to take steps towards making their operation as efficient and sustainable as possible.
"We really want this ground to be able to sustain our family, and hopefully if our little one wants to farm someday, he'll have the opportunity to do so," said Jayci.
Together We're Better
Although many young farmers are rich in passion, getting started within the agriculture industry as a producer is not an easy task. When asked what advice he had to offer to aspiring young farmers, Anthony shared the following:
"If you've got someone that's been doing this for a while, listen to them. Be willing sit and talk with them. If they are willing to help, take full advantage of that and appreciate it. Not everyone has that support system," he said. "When I go to meetings, my favorite people to sit with are the oldest people in the room. If you can learn from them, you'll be just fine."
For more than 100 years, Capital Farm Credit has proudly served young, beginning, and small farmers like the Bishop family in an effort to fulfill our mission of providing reliable credit and financial services that enable our members to achieve success in agriculture and rural communities.
"Without the help of others, we wouldn't be where we are today," said Jayci. "When you're getting your start in farming, I think you have to appreciate where you are, who's there to be willing to lend a helping hand or advice, and take it graciously."
To learn more about Capital Farm Credit's young, beginning, and small farmer programs, visit our YBS webpage here.